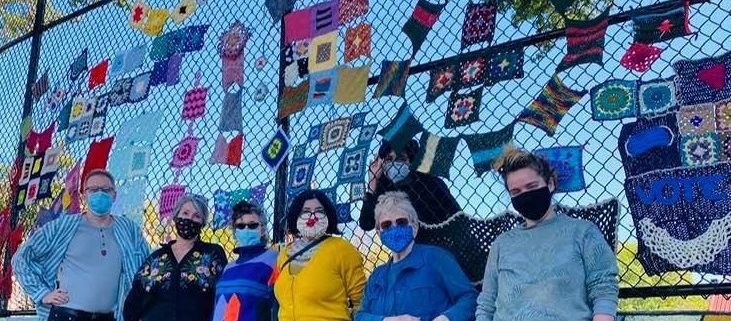 The 4th Ave Yarn Bomb is a fun, socially-distanced activity to celebrate art and community on 4th Ave in Park Slope and Gowanus. Join in the fun with this weekly (weather permitting) Meet Up in the North Garden at the Old Stone House (picnic garden on 3rd Street). You can also participate from home and bring your work in later.
This is a community collaboration is organized by The Old Stone House, Arts Gowanus, Why Not Art and Forth on Fourth Avenue (FOFA). The yarn bomb is free and open to all!  We would love to include a wide range of people in the project!
Wed August 10 – Zoom Kick-Off Meeting 6 – 7:30pm
Wed August 24 In-person Crafting Sessions 5 -7pm (Old Stone House, North garden) and every Wednesday weather permitting until Sept 28
Weekend of October 1st/2nd – Yarn Bomb installation
Goal is to have it in place for the Kings County Fiber Festival on October 8, the Arts Gowanus Open Studios weekend (Oct 15-16) and during the NYC Marathon.
Contact the organizers with any questions: Grace Freedman grace@5freedmans.com, Beverly Crilly bevcrilly@me.com, & SJ Avery averysj@gmail.com